We are AROUNDtheTREE – Get to know our company, story, soul and values. We are committed to be a sustainable brand.
We are AROUNDtheTREE Design
Our values lie in the respect, protection and sense of continuity towards our natural resources, our roots must be preserved, maintained and cared so they can keep inspiring us as well as our future generations.
We are committed to be a sustainable brand; We feel obligatedto respect the purity of the materials we use in our pieces giving them the importance they deserve and making products that can be cared through generations with maintenance and repair. Portugal has centuries of history in woodworking, we draw honoring that tradition and combining it with state-of-the-arttechnologies, always trying to produce furniture with a high-level practical value and connecting our ancestry's generations with the ones to come.
Every masterpiece we make represents a tribute to the materials we use. This vow of respect represents the value of our collection and makes it possible for us to ensure the quality of our pieces, giving us the confidence to mark them as "Made in Portugal" with the distinctiveness it deserves.
  UNIQUE & TIMELESS PIECES
We feel inspired by the forest as a living and valuable resource. It
provides us with the most extraordinary materials which natural
properties can't be mimic in any way.
Solid Wood it's a cultural asset and one of the most ancient
materials used and processed by human hands. The uniqueness
of its colour and grain makes each piece off, one of a kind. Each
growth ring portrays part of the life history of an entire forest.
It has a unique character that we choose to represent as the main
characteristic of our furniture, making it pure and unostentatious,
representing the best qualities of its materials.
Our Production
Our manufacturing process is based on the care and will to maintain the main characteristics of our materials giving them the longevityand preserving quality for generations. Our main priority is to use the best suited methods of processing in each material, implementing our simplistic yet very sophisticated designs.
We are enthusiastic developers and are constantly striving to increase quality.
Lateral thinking and creativity combined with inspiring partnerships are what characterize our company spirit.
All of this is only possible through close, long-standing and trusting cooperation with our production partners, all of whom are in Portugal. They share our goals and are willing to stand the development risks.
The Touch
Hands are our basic equipment and the control point in our woodwork. From a tree to a chair, our wood travels from the hands of one artisan to another.
Wood selection, processing, assembling, finishes and care are steps that are part of our production process and are made under the sharp eye and infallible touch of our Artisans. They guarantee a personalized approach with every piece that results in a top-quality product or, more precisely, a handicraft product.
All our products are manually processed, assembled and protected.
Quality
Working with solid wood requires a determined set of skills from every person involved in the process. The high level of training of our masters and apprentices' cabinetmakers play a decisive role in the production of our furniture. This starts with the selection of the wood, which requires a trained and sensitized eye. To understand the process is important to know that there must already be an idea of how the tabletop will look when raw boards are compiled, and that's why each of our workers have the experience and knowledge to be a part of this process. Healthy woods transformed into functional and beautiful furniture in perfect craftsmanship: this is what defines our quality standards.
For us transparency about the origin of our materials is a key matter in the development of our products.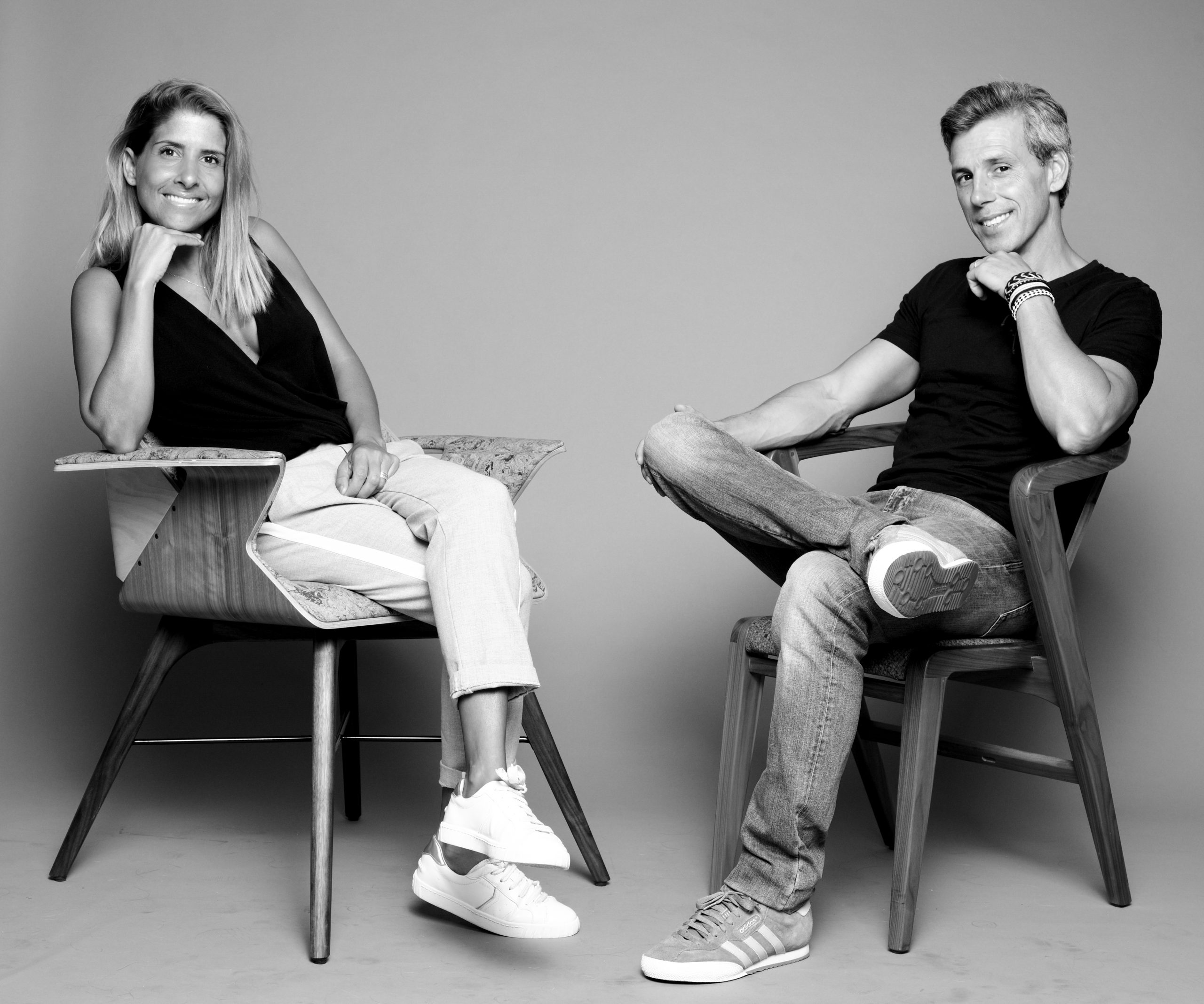 Founders Believers
When you find a good idea, you always need someone who believes in it to make it work.
So what more can we ask, when the believers are the ones who came up with the idea?
This special sustainable brand is made of true believers, Soraia Rangel with proven experience in Marketing and Advertising and Alexandre Caldas with 25 years of experience in furniture and design industryIs this know-how and the love for nature, that causes our commitment in creating pieces that breathe and feel nature in a most sustainable way.
With the drive and the respect we have for nature, our goal is to embrace the Portuguese traditions and culture.
For us AROUNDtheTREE is not just a brand, but a badge we wear with honor. And we want to continue to believe that this love, respect and honesty are the foundations that allow us to innovate and always give the best of ourselves to our customers.
Soraia Rangel ( Founder & Believer ) &
Alexandre Caldas (Designer & Believer)
Our Team Believers
As a team , we value customer, above all, as an individual, taking
the concept of personalized accompaniment beyond the elaboration of our proposals. We involve the customer in the entire process, from product selection to delivery, ensuring their satisfaction.
We believe that design is an important part of people's lives.
The AROUNDtheTREE brand philosophy is base on
4 fundamental pillars:
1. Design as a storyteller
2. Environmental and social responsibility as a global duty
3.Customer as the first concern
4. The guarantee that we will always be on this side, as an indisputable added value.
AROUNDtheTREE is base on the "customer first" policy.
Designing Stories for the Future